Many of us take our car's braking system for granted, but it is one of the vehicle's most vital safety systems. You need to know that when you press the brake pedal, the car will slow down and stop safely. However, while the brake pads and discs are regularly checked during a scheduled service or routine maintenance, the brake fluid is often neglected.
The brake fluid should be changed regularly to maintain the efficiency of your brakes, but how often? Here, we'll look at what brake fluid is, how it works, and when you should change it. (If you have brake problems that require immediate attention, give us a call.)
What Is Brake Fluid?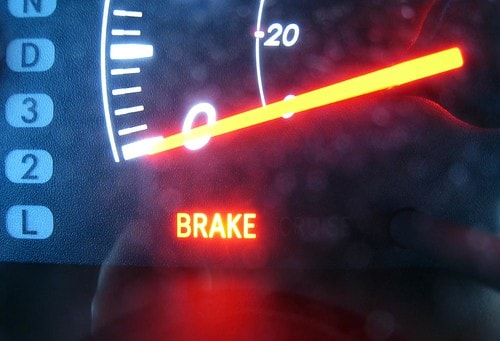 Brake fluid is a type of hydraulic fluid used in your car's hydraulic brake system. The fluid is responsible for converting force into pressure to increase the braking force. Put more simply, when you press the brake pedal, brake fluid converts this force into pressure to the front and rear brakes, which stops the vehicle.
The Department of Transportation classifies brake fluids to defined specifications that relate to their chemical composition and boiling point. The three main types of brake fluid are DOT3 and DOT4, which are glycol-based, and DOT5 which is silicon-based. The main difference is that glycol-based fluid absorbs water, while silicon-based fluid doesn't.
Under hard or prolonged braking, the brake fluid gets hot, which is why its boiling point is important. If the fluid boils (turns to gas), it will lose the ability to transfer force and cause partial or complete brake failure. This is because, while liquids are incompressible, gases are compressible. As the brake fluid absorbs water during its life, the boiling point is reduced, which is why it should be changed regularly.
How Often Should You Change the Brake Fluid in a Toyota?
As a rule, Toyota recommends that you change the brake fluid every two years or 20,000 miles, although several factors can affect the interval. No two drivers are the same, and some are harder on their brakes than others. It can also depend on the age of your car, how much you drive, and where you mostly drive. In a humid climate, the brake fluid will absorb more moisture than in a hot, dry climate.
The best way to ensure that your brake fluid is in good condition is to have it inspected and tested by an expert technician each time you take your car to your Toyota service center for other maintenance, such as an oil change. The technician will use a brake fluid tester that collects a sample of fluid and heats it up to check its boiling point.
You can buy a DIY brake fluid tester, but they are notoriously inaccurate. You could use one as a rough guide, but get the results backed up by a Toyota technician using a professional tester.
Is a Brake Fluid Flush Really Necessary?
Having your brake fluid flushed is necessary to keep your brakes working efficiently. In your Toyota's sophisticated and highly efficient braking system, the brake fluid is stored in a sealed environment and can survive for many years. But brake fluid is hygroscopic, meaning that it attracts moisture from the air, which can seep past seals and through microscopic pores in the rubber hoses.
Over time, the moisture content in the brake fluid increases, along with dirt and other contaminants. This will cause a gradual deterioration in the efficiency of your brakes. Imagine the terrifying worst-case scenario where you brake hard in an emergency and the pedal goes straight to the floor because of the total failure of the hydraulic braking system. That is why old brake fluid is known in the auto repair trade as the silent killer.
What Happens if You Don't Change the Brake Fluid?
As we said, if you don't change the brake fluid, moisture absorbed by the fluid builds up throughout the hydraulic braking system. As the water content increases, the boiling point of the brake fluid becomes lower. The brake fluid heats up every time you apply the brakes, and if it reaches boiling point under hard braking, it can take longer to stop or your brakes could fail.
Additionally, if the water is allowed to build up and remain in the system over a long period, it can cause internal corrosion in the master cylinder, calipers, brake lines, and other components. Changing the brake fluid might cost $100 or less, but replacing other braking system components can run to several hundred dollars.
Does Changing the Brake Fluid Improve Braking?
Changing the brake fluid does improve braking, particularly if the fluid hasn't been changed for many years. You might not have noticed a gradual deterioration in the performance of your brakes or the softening of the brake pedal, but after flushing the brake fluid, you're sure to notice the improvement.
What Are the Symptoms of Low Brake Fluid?
Several telltale signs let you know that your brake fluid is low. Here are five of the most common symptoms:
The brake or ABS warning light coming on is a sign that there is a problem with the braking system, which could be low brake fluid.
If you notice that your ABS activates in situations where it wouldn't usually have done, your brake fluid may need topping up.
If you find that you're having to push down harder on the brake pedal or it feels spongy when you press down on it, your brake fluid needs topping up or changing.
Brake pads are affected by low brake fluid, so if you feel vibration when you brake or the pads make squealing or grinding noises, get your brake fluid checked.
A burning smell after repeated hard braking is a sign of overheating brakes, which can be caused by low brake fluid.
If you notice any of these symptoms, take your car to your Toyota service center to have your brakes checked over.
Brake fluid is as crucial to stopping your car as the engine oil is to keep it going. Contact us today at Kings Toyota and we can take care of all of your Toyota's servicing needs, including making sure that your braking system is working efficiently.