Welcome to Our Financing Department, serving Fairfield, OH, Hamilton, OH & Covington, KY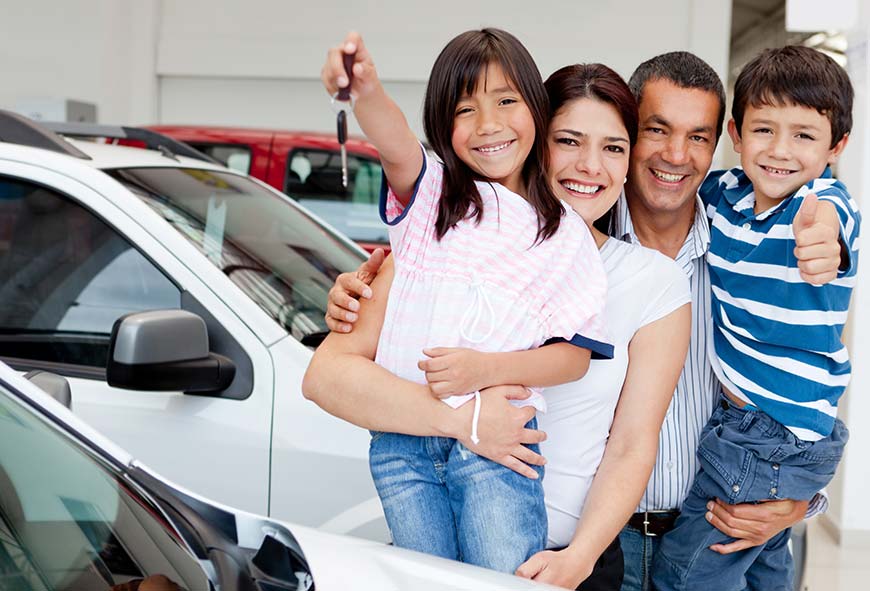 Welcome to the Finance Center at Kings Toyota. As part of our commitment to delivering the best possible car shopping experience, our dealership has put together a dedicated team of highly qualified and experienced finance experts to help you obtain the financing you need to purchase your dream vehicle. With our strong relationships with banks and other lenders, we're able to provide a wide range of car loans to suit your specific budget and needs. Whether you're looking for short- or long-term auto financing, a bad credit car loan, or a car lease, Kings Toyota has got you covered.
How Does Auto Financing Work?
Most vehicle buyers don't have a big chunk of cash on hand to just pay the full price of a vehicle up front. If you're one of them, you'll have to apply for auto financing to drive home your favorite vehicle.
Once your auto loan application is approved, you'll receive a large sum of money to pay for your desired car. Subsequently, you're required to make monthly installment payments plus interest to your lender until the end of the loan term. You can choose a repayment time frame that suits your financial circumstances, which can be anything from one to seven years. The interest rate you'll pay depends on a number of factors, such as your loan term, credit score, and income.
While you're still repaying your auto loan, your vehicle technically belongs to your lender. As such, your lender may repossess your car if you fail to meet your loan payment obligations. If you successfully pay off your loan, you'll receive the title of your vehicle, which makes you the true owner.
Why You Should Consider Financing Your Car Through a Dealership
Many vehicle buyers choose to get car loans from dealerships instead of traditional lenders such as banks and credit unions. Besides being a more convenient option, dealership financing offers many other benefits, including:
Easy Approval
Traditional lenders are known for their strict loan eligibility criteria. If you have a checkered credit history with late or missed payments, you can expect to have a hard time getting auto financing from a major bank or credit union.
The finance center of a dealership differs from a traditional lender in that it doesn't extend a car loan to you directly. Instead, it offers third-party car loans from a wide range of lenders. Some of these lenders are smaller or lesser-known companies that have more lenient credit requirements, meaning they may accept borrowers with less-than-favorable credit ratings. If you need a bad credit auto loan, you'll be better off financing your vehicle through a dealership.
Quick and Easy Process
Even if you qualify for auto financing with a bank or credit union, you probably have to wait quite a while for your loan to be approved and processed. In some cases, it may take weeks for your funds to appear in your bank account. Failure to provide accurate information or submit a necessary document can further delay the process.
Choosing dealership financing can help you save a lot of time and hassle. All you need to do is show up at your local dealership, choose your ideal vehicle, and apply for auto financing. If everything goes smoothly, you can be driving away with your new car in a matter of hours. Some dealerships offer online auto financing application to make the process even easier.
At Home Financing
Kings Toyota offers At Home Financing to help make purchasing a new vehicle as quick and easy as possible. With just three steps, you can secure your loan terms and be ready to drive your new vehicle. This unique program allows you to all the paperwork from home without needing to spend time at the dealership.
Car Leasing
Besides car loans, a dealership also offers you the option to lease a vehicle. Car leasing is worth your consideration if you want to drive a new car without having to make a big down payment or pay high monthly installments.
Unlike auto financing, leasing doesn't result in you owning the vehicle, but it's a substantially more cost-effective way to gain full access to a new car. You'll most likely be driving a late-model car that's still under the manufacturer's warranty, meaning you won't have to pay for repairs or even scheduled maintenance in some cases. Another advantage of car leasing is that it allows you to drive a different car every few years, so you'll be able to enjoy the latest infotainment features, driver-assistance systems, and other automotive technologies.
Get Your Ideal Auto Financing Solution at Kings Toyota
Whether you're planning to buy a new or used Toyota vehicle, it's essential to get an auto financing plan that gives you financial peace of mind. The finance department of Kings Toyota can help you find a car loan that perfectly fits your financial circumstances, thanks to our extensive lender network. Over the years, we have established solid partnerships with many national, regional, and local lenders that collectively offer a wide array of auto financing solutions, including short-term auto loans, bad credit car loans, no credit car loans, and auto refinance loans.
If you're planning to purchase or lease a Toyota vehicle that's no more than five years old, you may be eligible for financing with Toyota Financial Services. As the financing arm of Toyota Motor Corporation, Toyota Financial Services provides auto loans and leases for late-model Toyota cars, SUVs, and trucks at highly competitive rates. Additionally, it offers auto financing and car leasing with bad credit and an array of special financing programs for military personnel, college graduates, and returning program participants. You can apply for a pre-approved loan or lease with Toyota Financial Services on our website.
At Kings Toyota, we understand that buying a vehicle and applying for auto financing can be a difficult and stressful process. Therefore, we'll go the extra mile to make sure you'll feel right at home when you come to our dealership. Regardless of your financial situation, our friendly and professional finance experts will try to understand your financing needs and help you secure your ideal auto loan in the quickest possible time. Under normal circumstances, you should be able to drive your dream Toyota off our lot on the same day.
Feel free to contact us if you have any inquiries about our financial services.