Welcome to our Toyota Rental Car Department

Direct Line 513.583.4394

Hours of Operation:
Monday - Thursday 7am to 7pm
Friday 7am to 6pm
Saturday 7am to 3pm
Sunday Closed





KINGS TOYOTA RENTAL CAR RATES
  Corolla   
 
  

 24 Hour Rental

$39.95 per day








 Weekly Rental

$229.95








 Weekend Special
Saturday & Sunday only
$59.95







 Camry
 

  24 Hour Rental

$49.95 per day





  Weekly Rental

$269.95





 Weekend Special
Saturday & Sunday only
$69.95





 RAV4
  
  24 Hour Rental

$54.95 per day





  Weekly Rental

$349.95





 Weekend Special
Saturday & Sunday only
$69.95




Highlander
    
24 Hour Rental
$85.95 per day
Weekly Rental
$519.95
Weekend Special
Saturday & Sunday only
$119.95
 Sienna 
  24 Hour Rental

$99.95 per day





  Weekly Rental

$589.95





 Weekend Special
Saturday & Sunday only
$199.95




RENTAL RATES BASED ON 150 FREE MILES PER DAY
*Vehicles subject to availability.  Weekend rates apply to Saturday and Sunday ONLY.

Our knowledgeable and courteous staff will gladly help you with any of your rental requests.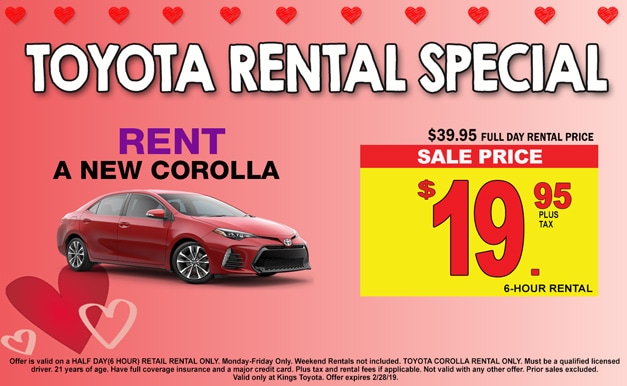 Rent a New Toyota
 
Toyota Quality by the day, week...

So you need dependable ground transportation in another city. Or perhaps your car is in the shop and you need a quick, convenient rental. Or maybe you just want to test-drive a Toyota at your leisure. Regardless of the reason, no car rental agency offers you the combination of convenience and confidence as Toyota Rent a Car.

Located at over 50% of Toyota dealerships nationwide, Toyota Rent a Car offers only new Toyotas. These vehicles are kept in top shape by Toyota-trained personnel. Toyota Rent a Car is open to all qualified licensed drivers (at least 21 years of age, full coverage insurance and a major credit card).

For reservations, use our online rental form below.  For more information or to answer questions you have please contact our Rental Car Manager, Kelly Lipka at 513-583-4394.

Receive a truly unique car rental experience at KINGS TOYOTA Scion.


Competitive Rates - Smoke Free Vehicles - All New Toyota Models
Insurance Company Direct Billing  -  Daily, Weekly, Monthly Rentals
Weekend Specials - 24 Hr. Roadside Assistance an all TRAC Rentals
*Prices subject to change