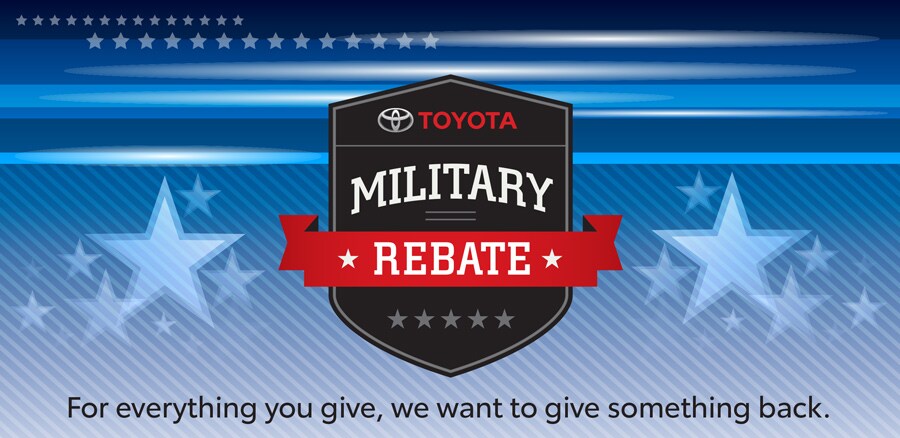 Our thanks to you -  Toyota, in partnership with Toyota Financial Services, is proud to offer its
military rebate - $500
- to help you buy or lease your next New Toyota.
Get a $500 rebate on any New Toyota vehicle


How to Qualify:
Customer Eligibility:
In current active duty status in the U.S.Military (Navy, Air Force, Marines, National Guard, Coast Guard and active Reserve) OR a U.S. Military inactive reserves (i.e., Ready Reserve) that are part of the Individual Ready Reserve, Selected Reserve and Inactive National Guard; OR
A Military retiree or honorably discharged veteran of the U.S.Military within two years of their honorable discharge date; OR
Household member of an eligible U.S. Military personnel; AND
Provide verifiable proof of military status or proof of active service, required at time of purchase, in the form of one of the following documentation:
            - Leave and Earnings Statement
            - Military Identification Card (no photo copy required)
            - Veterans/Retirees DD Form - 214

Receive a salary sufficient to cover ordinary living expenses and vehicle payments
Be credit approved by TFS
Household Member means:
Household and/or family members of the qualified Military personnel living at the same address as the qualified Military personnel.  An eligible service member and his or her household may reside in permanent or temporary housing.
Goldstar family members are also considered as household and/or family members, and are eligible for this program
Goldstar family members are family members of fallen heroes
Maximum Terms:
The Maximum terms for the rebate (in months) for eligible vehicles under the program are outlined below.
Retail:     72 month maximum
Lease:    48 month maximum
Tier Application*
Retail:     All Tiers
Lease:    All Tiers
*There is no minimum Tier application for this program (FICO score determines Tier for this program).