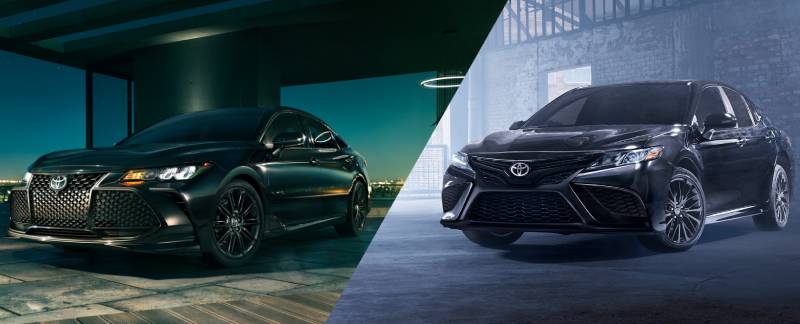 When you're on the hunt for a sedan that pulls out all the stops, you can hardly do better than the 2021 Toyota Camry and the 2021 Toyota Avalon. But how do you decide between these two fantastic Toyotas? Use this side-by-side comparison to find the sedan that has your name written on it.
Trim Levels and Prices
The 2021 Toyota Camry is available in several trim levels to allow you to find your perfect sedan. Here are the different ways you can get yours, in order of lowest to highest starting MSRP:
LE: $25,045
SE: $26,560
SE Nightshade Edition: $27,260
LE Hybrid: $27,270
SE Hybrid: $28,785
XLE: $29,945
XSE: $30,495
XLE Hybrid: $32,170
TRD: $32,260
XSE Hybrid: $32,720
XLE V6: $35,070
XSE V6: $35,620
The 2021 Toyota Avalon is also available in a spread of trim levels. As you can see, the Avalon picks up where the Camry left off in terms of starting MSRP. If you're looking for a great deal on a great sedan, opt for the Camry. If you want to treat yourself to a luxury experience, choose the Avalon. Below are the Avalon's trim levels in order of starting MSRP.
XLE: $36,125
XLE Hybrid: $37,100
XSE Nightshade: $39,360
XSE Hybrid: $39,600
Limited: $42,425
Touring: $42,825
TRD: $43,125
Limited Hybrid: $43,400
Engines and Power
The 2021 Camry has three engine options, including the hybrid powertrain. The starting option is a 2.5-liter four-cylinder engine that produces 203 horsepower and 184 pound-feet of torque. If you choose a hybrid model, you'll get the same size of engine paired with an electric motor for a total of 208 net horsepower. Aim for the TRD level or higher to get a 3.5-liter V-6 engine that outputs 301 horsepower and 267 pound-feet of torque.
The 2021 Avalon gives you the Camry's V-6 engine from the start. If you choose an all-wheel-drive Avalon, you'll get the Camry's four-cylinder engine. The Avalon Hybrid models have the same configuration as the hybrid Camry but offer a slightly boosted 215 total horsepower.
Both models are available with a traction-boosting all-wheel-drive system. Both are available with hybrid systems. They share engines. The decision between the two Toyota models will likely not be swayed much by their power offerings.
The four-cylinder engine gives both models a combined 28 mpg rating. The V-6 gives the TRD models a combined 25 mpg rating. The hybrid models get a combined 44-46 mpg rating.
Exterior Style
The Camry is offered in 13 exterior paint colors, including four two-tone color contrasting options with black rooftops. The Avalon gives you 10 paint color options, including two black roof options.
One of the most obvious differences between these two sedans is their outward appearance. The Camry has a more angular, sporty front fascia with a low black-out hood. If you want to take this sportiness up a notch, opt for a model with the rear spoiler and the red accent line along the bottom fender.
The Avalon is designed to be more elegant with its windswept body lines and large black mesh grille. For a more intense Avalon personal, choose the Nightshade Edition to get black-on-black exterior features.
Exterior Size
The full-size Avalon is larger than the midsize Camry. Here are its exterior dimensions in inches:
Height: 56.5
Width: 72.8
Length: 195.9
Wheelbase: 113
Ground clearance: 5.3
For comparison, here are the exterior dimensions of the 2021 Camry in inches:
Height: 56.9
Width: 72.4
Length: 192.1
Wheelbase: 111.2
Ground clearance 5.7
Though the Avalon isn't much longer, it could make a difference if you're trying to find a sedan that will fit into your garage or slide into tight city spots.
Interior Space and Features
Both the 2021 Camry and Avalon seat up to five passengers. The 2021 Camry gives you and your passengers up to 100.4 cubic feet of space to relax in. The Camry offers up to 15.1 cubic feet of cargo volume with the rear seatbacks up.
The Avalon has more space to offer. It has 104.3 cubic feet of passenger volume and up to 16.09 cubic feet of cargo volume with the rear seatbacks up. If you're trying to give your passengers the most space to stretch out and relax in, go for the Avalon. Though their front rows are comparable in terms of space, the Avalon has notably more room in its rear row.
As you progress through these model's trim levels, their interiors grow more luxurious. You'll find leather upholstery at the Camry XLE level and the Avalon's Limited level, though simulated leather is available on lower trims. If you want a Camry with heated front seats and a heated steering wheel, choose a model equipped with the Cold Weather package. The Avalon offers heated and ventilated front seats and heated rear seats standard for the Limited trim level.
Technology
Both of these Toyota sedans feature standard touch screens that are compatible with Android Auto, Apple CarPlay, and Amazon Alexa. The Camry, however, gives you a 7-inch screen while the Avalon features a 9-inch version. The larger screen is available to the Camry at the XLE level, which also introduces the wireless charging pad, digital driver display, and dual-zone climate control. If you want the most advanced Toyota sedan, aim for the Avalon Limited, with comes equipped with a 14-speaker sound system, a head-up display, ambient cabin lighting, and more.
Both the Camry and the Avalon come standard with plenty of driver-assist technologies. Both models are equipped with the pre-collision system with pedestrian detection, automatic high beams, advanced cruise control, and lane-departure alert with steering assist. The Avalon comes standard with the blind spot monitor, while the Camry offers it at a higher trim level.
When you're ready to shop for your new Camry, Avalon, or any of the other top-notch vehicles in Toyota's 2021 model year lineup, head to Kings Toyota in Cincinnati, Ohio. Our team of experts can help you find the perfect Toyota vehicle that meets your needs and suits your style.