Do you dream about weekend family excursions to the Winton Woods in Ohio? Or do you wish to unwind on a fishing trip to Brookville Lake? Perhaps you want to experience the thrill of snowmobiling at the Punderson State Park. Whatever scenic outing you choose, you'll need a powerful pickup truck for towing your camper, trailer, boat, or ski-do. Check out the impressive 2021 Toyota Tacoma at Kings Toyota in Cincinnati.
It is a tough medium-sized pickup truck with strong off-roading capabilities and a robust engine. With a maximum rated towing capacity of 6,400 pounds, it can haul heavy loads without even breaking a sweat. Let's take a look at Tacoma's towing specifications.
What Is the Towing Capacity of the 2021 Toyota Tacoma?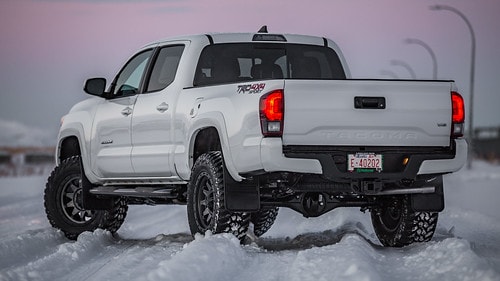 The towing capacity for the top trims of Toyota Tacoma is listed as 6,400 pounds. However, the actual trailering capacity will be 4,500 pounds. Sounds confusing? Here's how we calculate it.
Consider the SR trim with a 4x4 double cab, a 3.5-liter V-6 engine, and a five-foot bed. The first thing to look for is its curb weight. The 2021 Toyota Tacoma is a mid-size pickup truck, and its curb weight is 4,445 pounds. This weight includes the chassis, bodywork, engine, suspension, steering, wheels, batteries, seats, spare tire, exhaust, tailpipes, a filled fuel tank, and accessories without any passengers.
Next, check its gross vehicle weight rating (GVWR), which includes the maximum weight of cargo and passengers in your car. Ideally, you should avoid loading the vehicle above the GVWR, which is 5,600 pounds for the 2021 Toyota Tacoma. This additional weight is called the payload, which is calculated as GVWR minus curb weight. So, the average payload for the 2021 Tacoma is 1,155 pounds.
The last thing you need to verify is the gross combined vehicle weight rating (GCVWR). It is the maximum combined weight of your truck, fully packed with five passengers, combined with the weight of your loaded trailer. So, to find its towing capacity, you simply subtract the curb weight from GCVWR. Since Tacoma's GCVWR is 11,360 pounds for all trims, subtracting the curb weight of 4,445 pounds gives us 6,915 pounds maximum. However, Toyota has specified a 6,400 pounds limit, considering the truck's safety margins.
Car manufacturers also provide an extra rating called tongue weight. It is the weight of a trailer at the point of attachment on a hitch ball, 640 pounds for the Toyota Tacoma.
Now you can find out the trailering capacity from the towing capacity using this simple formula:
Trailering capacity = Towing capacity - payload - tongue weight
In our case, it is
6,400 - 1,155 - 640 = 4,605 pounds
So, the 2021 Toyota Tacoma trailering capacity is 4,605 pounds for the SR trim, rounded off to 4,500 pounds with trailer safety margins. It is also known as the Gross Trailer Weight (GTW). This rating tells you the trailer's maximum weight with all your cargo, fresh water, propane tanks, and RV batteries.
What Can You Tow With a Toyota Tacoma?
Now that you know the towing and trailering capacity of the Tacoma SR, you might be wondering:
Can the Toyota Tacoma tow a trailer?
Can Toyota Tacoma tow a camper?
Can Toyota Tacoma Tow a boat?
Can Toyota Tacoma Tow a car?
We have all the answers.
The 2021 Tacoma can definitely haul trailers as long as their GTW rating is less than 4,500 pounds. Some popular options that go great with the Tacoma are Riverside Retro RV 509 (1,850 pounds), Flagstaff E-pro E12SRK (3,156 pounds), Jayco 10RK (2,000 pounds), Taxa Cricket (2,700 pounds), and Intech Luna (2,200 pounds).
When you opt for campers, you need to consider the payload rating instead of the trailering capacity because they sit on the bed of your truck. So, you can select a camper with a payload rating that is less than 1,155 pounds for the SR trim. Hop into the Kimbo 6 (1,100 pounds loaded) built specifically for the Tacoma, the modular Scout Yoho 6.0 (913 pounds dry weight), or the lightweight Four Wheel Camper Project M (425 pounds) and begin your new adventure.
If fishing or water sports fascinate you, the Tacoma can haul personal watercraft (PWC), a small bass boat, a deck boat or pontoon, and a ski boat. However, you need to check the dry weight for each and compare it with the trailering capacity to save your Tacoma from engine and powertrain failures.
PWCs or jet skis are small and lightweight. The 2021 Tacoma SR can easily tow a Sea-Doo SPARK 3up (421 pounds), Yamaha VX Cruiser HO (767 pounds), or the FX Cruiser HO Full (838 pounds).
Anglers looking for largemouth bass fishing around Ohio can pick one of the three two-seater bass boats. The Ranger Z175 (1,250 pounds), the Nitro Z18 (1,700 pounds), or the Sea Hunt Triton (2,150 pounds).
Deck boats are great for fishing get-togethers and can weigh 1,680 pounds at the lower end to about 3,375 pounds for premium brands. These pontoons shouldn't pose any problems for most Tacoma trims.
Ski boats can be a little tricky to manage. You can get the Supra Comp TS6M 1989 weighing 2,350 pounds or a higher-end Malibu Wekesettler which weighs 4,650 pounds. So you might be cutting it a little too close to your Tacoma's trailering capacity if you go for a heavier fishing barge.
If you need to tow another car, you need to set up your Tacoma with a trailer brake or rent a tow dolly. Depending on that car's curb weight, you can haul a small coupe, a hatchback, or a mid-sized, four-door sedan weighing less than 4,500 pounds.
While the Tacoma may have trouble winning the tractor pull challenge at Ohio State Summer Shootout, it can haul your trailer or boat just fine. With its incredible crawl control technology, it can pull itself out if you ever get yourself mired on a beach. Add to that its fantastic off-road capabilities, and the Tacoma will even give you several hours of rock crawling fun.
If you're interested in knowing more about the 2021 Toyota Tacoma, drop in for a chat or call us at (513) 683-5440. You can also contact us online to have our customer service representatives answer all your queries about buying a new Tacoma.