Whether you're interested in a completely new look or you just want to freshen up your current style, a trip to the hair salon is exactly what you need. Fortunately, there are a variety of fantastic salons around Cincinnati, Ohio, that cater to everyone in the family. Whether you need a kid's salon or one that can take care of your own needs, you'll love visiting these 10 coveted salons in Cincinnati.
A Salon Named Desire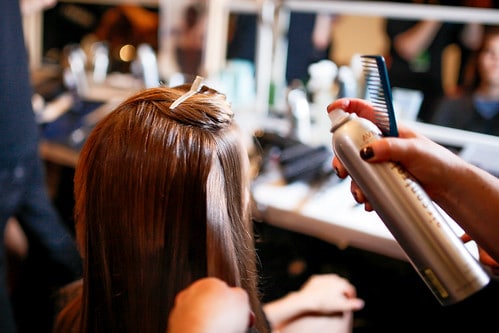 Image via Flickr by Mainstream
A Salon Named Desire strives to follow sustainability practices in everything it does. The salon works to reduce its electricity usage and is a proud member of Green Circle Salons. This means that the salon recovers items that were once considered waste, such as hair color tubes, aerosol cans, and plastics, and repurposes them to help protect the environment. Services that you can get at this salon include cuts, coloring, styling, smoothing, and waxing.
Black Rabbit Salon
Black Rabbit Salon is a sleek and stylish spot where you can unwind while you get pampered. Kick back with a glass of wine while you discuss your needs with one of the stylists. If you need your hair worked on, the salon offers cuts and styling for men, women, and children. Other hair treatments include highlights, color, split end care, extensions, Brazilian blowouts, and smoothing services. You can also stop by for waxing, brow tints, or microblading, which is a cosmetic tattooing technique that gives you full, maintenance-free brows that look natural.
Wild Honey Salon
For a nearby hair salon that's great for the whole family, head to Wild Honey Salon. This salon offers cuts for short hair, medium to long hair, and kids' hair. If you want a new color, you can choose from a root touch-up, partial highlights, full highlights, ombre, corrective color, all-over color, and more. The stylists can also do keratin smoothing treatments, blowouts, and formal styles for special occasions. While you're there, you can even take advantage of the salon's lip and eyebrow waxing services.
Bang Bang Hair Salon
Bang Bang Hair Salon is a fresh and modern alternative to high-end spas. The salon works to keep its hair spa price affordable while still providing standout service. The stylists here specialize in the latest cutting and coloring techniques for women and men. If you're not sure what you want, book a new client consultation and discuss your needs with a stylist. The services available at the salon include trims, full haircuts, blowouts, deep conditioning treatments, coloring, waxing, and more.
Mitchell's Salon & Day Spa
Just like Kings Toyota honors those who serve by offering a military rebate, Mitchell's Salon & Day Spa likes to thank those who help out by offering a discount off of your haircut when you donate your ponytail. Additionally, the salon offers discounts for new customers, corporate partners, and when you refer a friend. Plus, haircuts aren't the only service offered at Mitchell's Salon & Day Spa. You can also get coloring, hair extensions, perms, conditioning, hair removal, manicures, pedicures, and more.
Bishops
Similar to Hair Cuttery, one of the largest family-owned salon franchises in the United States, Bishops is a unisex hair salon that's opening new locations around the country. Bishops is also like Hair Cuttery for toddlers because the salon provides service to adults and kids. The stylists offer everything from neck trims to cuts for long hair.
If you're in the mood for something different, you can stop in for highlights, lowlights, a color retouch, or a color overhaul. The salon even offers a-la-carte treatments like a deluxe shave or beard trim for men, an express blowout, and scalp dermabrasion, which is like a facial for your scalp.
The Men's Salon and Spa
If you're looking for a men's salon nearby, check out The Men's Salon and Spa. This men's salon offers a full range of services that can take care of your needs from top to bottom. To freshen up your look, you can choose from haircuts, trims, hair coloring, gray blending, and hair removal. You can also rejuvenate your skin with a facial or hand and foot grooming. You can even help your stress melt away by booking a relaxing massage.
BlownCity
When you're ready to pamper yourself, stop by BlownCity. This blow dry bar knows how to treat you right. The minute you step inside the posh interior, you'll feel yourself start to relax. Let your hair down and allow one of the talented and professional stylists to take care of you.
Your experience starts with a luxurious shampoo followed by a fantastic blowout. The stylists here can handle any hair type and texture. You can choose from one of the hairstyles shown at the salon or create your own. Plus, the salon even offers classes on braiding, curling, and using a round brush so that you can recreate some of your favorite looks at home.
W Salon Cincinnati
If you're interested in a salon that offers a deva cut nearby, check out W Salon Cincinnati. A deva cut is a revolutionary technique designed for curly and wavy hair. The hair is cut curl by curl in its dry and natural state so that you end up with a style that's customized for your curl pattern. In addition to the deva cut, the salon also offers regular haircuts for women, men, and children. Other services include shampoo and conditioning, coloring, extensions, and texture treatments.
Benzie Hair Salon
Big milestones in life deserve some celebration. That's why Kings Toyota likes to offer a college graduate rebate. Once you take advantage of those savings, head to Benzie Hair Salon to make good use of their new customer coupon. With this coupon, you can save money on your first haircut or your first haircut and color. While you're there, check out some of the other great services the salon offers, including highlights, coloring, tints, perms, and more.
Those of us at Kings Toyota think these are the most coveted hair salons in Cincinnati. Did we miss one of your favorites? Let us know which salon you love to visit so we can add it to the list!